Valentina is a antique didone typeface that follows some of the canons proposed by Bodoni in the eighteenth century but incorporates many of the characteristics of the antique Spanish punches of the time. I enjoyed playing with some of the 125 alternative lower cases and the 46 ligatures: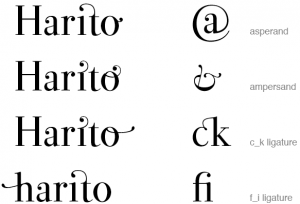 Download OTF file
You can download this font here, for free! (And if you wish, you can also donate few dollars to acknowledge the creative work.)
Version
Valentina-Regular 1.0 includes:
Upper case.
Lower case.
Alternative lower case.
Decorative and discretional ligatures.
Upper & lower case numerals.
Symbols and punctuation marks.
License
You can:
Use this font in personal designs.
Use this font in commercial designs.
You can not:
Redistribute this font by any means without explicit consent of the author.
Modify this font for redistribution because it is property of the author.